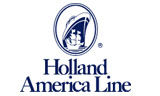 Our Guests rated Holland America Line
4/5
Total Reviews: 3
With award winning service, five star dining, and some of the most spacious ships at sea, Holland America Line has been greeting guests for over 140 years. It's 15 mid sized ships sail to over 500 itineraries each year visiting all 7 continents from Australia to Europe, the Caribbean, Alaska, South America, the Antarctic and beyond. Today it carries 800,000 passengers each year and is one of the most popular cruise liners in the world.
Holland America has a number of cruises departing Sydney to New Zealand, the Pacific Islands and Asia. Cruises also depart from other worldwide destinations taking in parts of the Mediterranean, Hawaii, USA Alaska, Caribbean and many other popular destinations. Search our Cruises on Sale for more information.
Entertainment & Dining
Learn to dance from the pro's, and meet the stars in "Dancing with the Stars at Sea" live show. Sing along and dance with world class musicians in the "BB King Blues Club". Onboard comedians, illusionists and Musicians will also have you entertained in spectacular live shows. If you fancy a gamble, make your way to the Casino, or for a quiet night take in a Movie at the Cinema. Don't forget the popcorn.
Every day onboard a Holland America Cruise ship is filled a vast amount of activities and entertainment options. Pamper yourself with a massage and spa treatment, or take in a workout at the fitness centre. On Shore excursions are consistenetly rated as "excellent" by guests and involve local experts and all in one pricing. Sporting facilities and Religious services are at hand.
With restaurants onboard to suit every mood and taste, you'll be treated to sumptuious cuisines from start to finish. Relax in the magnificent main Dining Room or try something different with cuisines covering Italian, Seafood, BBQ Grill, Asian, French, Japanese, Vegetarian and more. The "As You Wish" dining program is centered around flexibility for you to take part in a traditional pre set seating and dining time, or a flexible open schedule.
Reviews
Frances travelled on Volendam in

January, 2018

and left the following Holland America Line review:


Fabulous clean ship with a happy helpful crew ... Would like to see a clock the cabin or a PowerPoint near the bed so you can charge your phone overnight and check the time without having to get out of bed.. Overall entertainment was good ... Band in the crows nest tended to have longer breaks the sessions most of the time.... We did 2 onshore tours both were well run... With the SE Asia cruise...
John lopes and joey chong travelled on Maasdam in

January, 2018

and left the following Holland America Line review:


First time cruise with my partner we got a ocean view cabin located on A deck in the centre of the ship the cabin was very clean and plenty of room to store everything we were surprised by the size of the ship it was 12 storey high and had eight lifts four on each end and it took us a while to find our way around we went to the Lido deck on the 11 floor always a good selection...
Craig travelled on Noordam in

February, 2017

and left the following Holland America Line review:


Booking was a 14 night cruise from Sydnet to 9 ports in New Zealand and return with Holland America. Booking cruise was very easy and flights from wide bay to Sydney easily arranged. Cabins on the Noordam are well arranged and roomy. Bed was large and very comfortable. Food was terrific. Noordam offers a number of dining options ranging from casual to formal. Alaskan crab legs, Salmon,...
Frequently Asked Questions
News
We don't have any News yet, but check back next time.
Awards
Best Overall Cruise Value
World Ocean & Cruise Liner Society, Ocean & Cruise News
Best Dining Experience, Master Chef's Table
2014 Porthole Cruise Magazine Editor-in-Chief Award
Best Cabins
Cruise Critic Editors' Picks Awards (UK)
This Weeks Best Holland America Cruise Deals