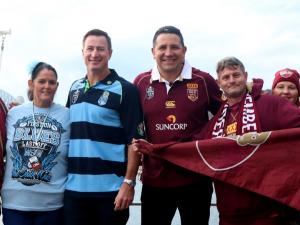 P&O Cruises kicked off the State of Origin in 2016 with their first ever NRL State of Origin Cruise from Brisbane to Sydney onboard Pacific Dawn. The Origin Cruise is now part of a growing list of big event cruises for P&O which include the ever popular Melbourne Cup, and Australia Day Cruises. Departing from Brisbane the itinerary headed towards Morton Island and onwards to Newcastle before docking in Sydney for the big clash between New South Wales and Queensland.
P&O takes care of all the necessaries including Bronze tickets to the big game and transfers to and from ANZ Stadium. Passengers are treated to an array of entertainment options onboard including past games on the Big Screen, team merchandise and separate bars for opposing teams! Past players from the Maroons and Blues will also be onboard to mingle with guests.
Catering also for those not so sports fanatical - all the usual P&O offerings will be at hand to ensure your getaway is not just 'all things football'. The pool will still have organised activities and the spa, gym, theatre and restaurants will be operating as normal. Shore excursions, snorkelling and quad bike riding on Moreton Island and a Hunter Valley Wine trails from Newcastle ensures a great trip away.
Whether it's a win from Queensland or New South Wales you'll have a fabulous week of cruising entertainment.
2018 State of Origin
In 2018, the P&O State of Origin Cruise is back! The first Cruise is on Sale now with a departure for Game 1 sailing from Sydney to Melbourne on the 4th June 2018. The itinerary is a 4 night sailing on the newly refurbished Pacific Explorer and includes footy themed entertainment, tickets and transfers to the game, along with footy legends onboard. To book, you'll need to get in quick as these departures sell out very fast.
If you've been on an Origin Cruise before we'd love you to review your trip.
For a bit of Trivia - here are some State of Origin facts:
The lowest crowd in Origin history was 12,349. The game was played at Long Beach, California on August 6, 1987.
The most points scored in a series was 146 for the 2000 game, when NSW achieved a clean sweep.
Qld is just ahead 1637 to NSW's 1549 on points scored
3 players have been sent off. Craig Greenhill (1996), Gorden Tallis (2000) and Trent Waterhouse (2009).